It doesn't seem like only six months ago I published the third in the Dan Taylor series, Three Lives Down, wondering how readers would react to that new book.
​The series had been on a hiatus for a while so I could pursue other stories that were niggling to be told, and I have to admit to a few nerves as I hit the "publish" button back in November. I had no idea whether Dan would still resonate with people, or whether readers had forgotten about him and moved on.
​It's been humbling, then, to have had so many readers contacting me in the months after Three Lives Down was released, asking when the next Dan Taylor novel would be ready.
​During that time, I've also published a short story prequel to the series, The Legacy Device, I've been accepted into the UK's Crime Writers Association, invited onto the Indie Alternative panel at this year's CrimeFest on May 22nd in Bristol, and was recently interviewed on Italian radio about the Dan Taylor series.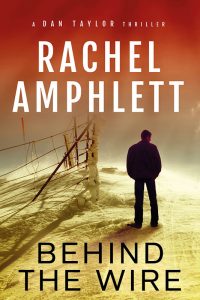 ​It's been a whirlwind ride.
So, as they say, without further ado, I'm chuffed to bits to be publishing the fourth in the series, Behind the Wire, today.
​It's available as an eBook worldwide right now, and the paperbacks should be available by the end of the week.
​While you're catching up with Dan's latest adventure, I'll be over here – tackling the next project!
(If you haven't yet discovered the series, why not click on the button to the right and grab a free copy of White Gold?)