When I became a full-time writer midway through 2017, at the back of my mind was the realisation that I was going to have to start being more mindful of my home office environment.
Having been employed by others for over 20 years and aware of the importance of ergonomics, as well as recovering from a health issue that left me more or less housebound for over two months, I wasn't prepared to take any more risks.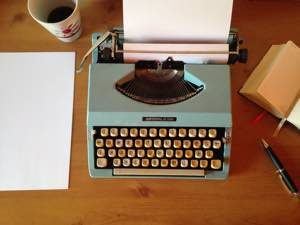 I'd already started making some changes to my writing habits the year before, but as it's been a while since I've shared what I'm actually using on a day-to-day basis, I thought I'd provide a peek behind the scenes with regard to the tools I'm using and the healthy habits I've implemented these past few months.
The tools
Notebooks
The way I work (and you can read more about that here), I begin each writing project with a few scenes scribbled into a notebook.
Until I started the Kay Hunter series, I was a huge fan of Moleskine notebooks, but I found that with the amount of additional research I was having to do, as well as sketching out a series arc that covered four books at the time, I needed a notebook that would act as a reference point for me as well.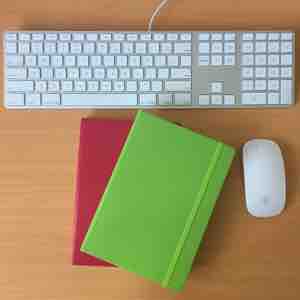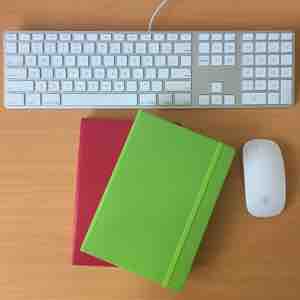 I've since switched to using Leuchtturm1917 notebooks, particularly the one called a Classic Hardcover Plain Medium Notebook.
These are about A5 size, but the selling point for me was the fact that the pages are numbered and there's a blank Table of Contents at the front.
The notebooks also have the back pocket that makes Moleskine so popular, so they're perfect for research notes and scraps of ideas.
Scrivener
I've been using Scrivener since 2014, and highly recommend it.
Once I have those key scenes and ideas fleshed out a bit more in my notebook, I transfer the whole lot into a new project in Scrivener. Here's a screenshot of a typical layout (with no spoilers!):
I love the way that each chapter has its own folder – underneath that is what is called a "file", and that's where I type the text. At first, I'll probably have a couple of bullet points for each key scene, but it's enough to get me started. 
The beauty of this software is that I can drag and drop chapters and move them around if I want to. Plus, I can keep all my notes about research points, character sketches, and things I want to check with my experts in the same folder – I can even include photos from real locations so I can refer back to them when I want to describe a scene.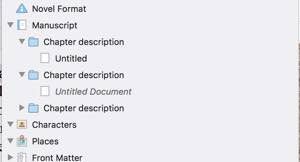 There's also a handy word count feature that I really like because it enables me to set what I think will be the total number of words in the first scrappy draft, plus the date I want to finish it by to stay on schedule and Scrivener tells me what my minimum word count has to be each day.
Also, because it's really important that I write every single day, if I can't settle in one particular scene it doesn't matter – I can scroll through the scenes I've got until something takes my fancy, and off I go. It takes the stress out of facing a blank page.
Nuance Dragon Naturally Speaking dictation software
Another important software app in my writing toolbox is dictation software.
I first started experimenting with Dragon dictation software in 2015 – that was the year I really started to take my writing seriously, and with a production schedule that sees me bringing out three new books every year, I need to eke out as many words as possible.
In order to do this without causing back problems and other issues associated with sitting in front of a keyboard every day, I turned to dictation.
I'll be honest – it takes some getting used to, but I'm stubborn by nature and was determined to make this work for me because I'd heard so many good things about the benefits, which included higher word counts in a shorter amount of time.
Headphones
No dictation software will work properly without a decent microphone set-up, and for a while now I've been using a Sennheiser headset with a microphone attachment. The lead on this is really long – perfect for pacing up and down in front of your computer (yay, daily steps target!). I've used these to participate in podcast interviews and Skype chats, too and they're very effective.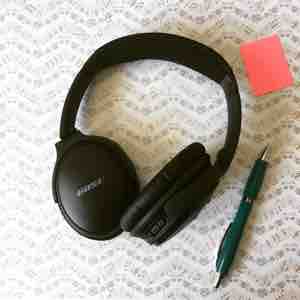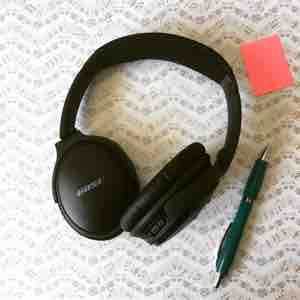 My Bose QuietComfort 35 headset wasn't cheap, but it was money worth spending. In fact, I've been blown away with the quality.
The headphones also paired with my Dragon Dictate software without a hitch, so I've even seen the dictation software improve at picking up the nuances of my voice better.
An additional plus for me is that I do at least one long-haul flight every year, and as someone who is easily distracted by loud or repetitive noises, I know I'm going to get my money's worth out of these.
The new healthy options
Sit/Stand desk
My most significant investment has been a sit/stand desk, which is electronically operated.
Again, due to ongoing health issues last year I wanted to make sure my writing wasn't going to make me worse.
These days, I tend to walk the dog before I make a start on the morning's word count and then begin my writing day by standing up.
I'm dictating at the same time, so I tend to pace back and forth and wave my arms about while I'm doing this – I think it's because I feel like I'm telling the story to someone and try to make it come alive!
I pause every few paragraphs and check the screen for any big bloopers, but for the most part I keep going until I've got the minimum word count finished. That usually takes me about an hour.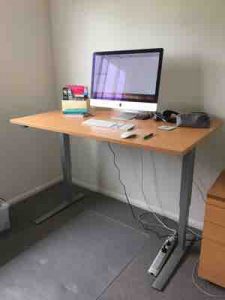 I have a break to get a hot drink, and then when I get back to my desk, I'll lower it to the sitting position to edit what I've done. Alternating my sitting/standing position throughout the day helps alleviate any back issues.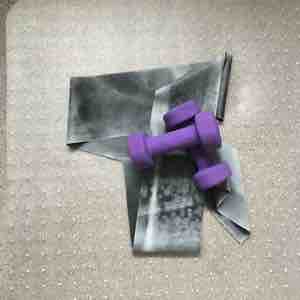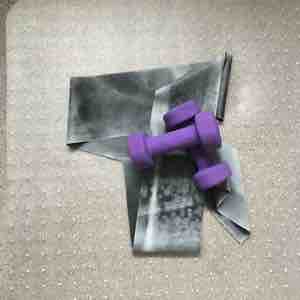 Extra exercise
The other thing I like to do while I'm dictating is to use my hand weights or my Pilates resistance band.
Walking back and forth and using these is becoming second nature, and it feels really good to stretch my back and shoulders on a regular basis.
It doesn't feel like exercise, either!
So, there you have it – that's my current set-up and healthy options I'm implementing for 2018. 
If you're a writer or you have a desk-bound job, I'd love to hear what you're doing to stay healthy this year so why not drop me a line in the comments below?