The past 24 hours has been a whirlwind of activity, with the cover reveal for the first novel in my new crime thriller series featuring Detective Kay Hunter, Scared to Death.
I've been humbled by all the support for this new endeavour, and I can't wait to share the book with you when it's published on 6 December.  There are pre-order links available for iBooks, Kobo and Nook below. If you have a Kindle and would like to be included in a very exclusive special offer nearer the time, all you have to do is sign up to the newsletter and check your emails 😉
Here's some more information about ​Scared to Death: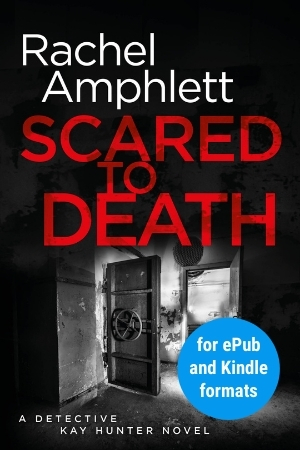 A serial killer murdering for kicks.
A detective seeking revenge.
When the body of a snatched schoolgirl is found in an abandoned biosciences building, the case is first treated as a kidnapping gone wrong.
But Detective Kay Hunter isn't convinced, especially when a man is found dead with the ransom money still in his possession.
When a second schoolgirl is taken, Kay's worst fears are realised.
With her career in jeopardy and desperate to conceal a disturbing secret, Kay's hunt for the killer becomes a race against time before he claims another life.
For the killer, the game has only just begun…
Scared to Death is a gripping fast paced crime thriller from author Rachel Amphlett, in a new series introducing Kay Hunter – a detective with a hidden past and an uncertain future…