It's that time again – the Advanced Readers Copies (ARCs) of my forthcoming book are out with reviewers in the lead up to publication day later this month, and so I'm already turning my focus to the next writing project.
No rest for the wicked around here!
But have you ever wondered how a book is written?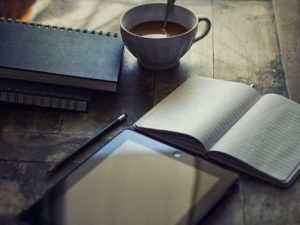 If you take a look through the author interviews on my blog here, you'll see that every writer has a different way of approaching the process. Some might spend time plotting, some do all the research up front before starting the first chapter, and others prefer to make it up as they go along, sorting out the research once the first draft is complete.
So, as I'm about to embark on my next writing venture, I thought I'd share with you the way I write a book these days.
Where do you get your ideas from?
Everywhere!
Something I've never had a problem with is finding ideas for a new story. I'm a news junkie, for a start and spend a lot of spare time reading the news. I tend to read the uncommon news though, thereby avoiding a lot of the sensationalism from tabloids and instead focusing on news about subjects that are relevant to the genres I write in.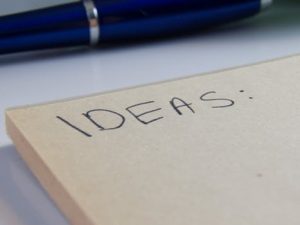 On a twice monthly basis, I'm typically perusing news from the Kentish area where my Detective Kay Hunter series is based.
For my international spy novels, I'm checking out websites such as RT.com, Al Jazeera, and France 24 and occasionally, I'll find something in the defence section of the UK's Daily Telegraph that piques my interest.
Anything that catches my eye goes into a folder in my favourites menu on my computer. I create a new folder for each new book for research purposes, and I have a more general folder that I use as a dumping ground for ideas that are still percolating.
On top of this, I keep a small notebook on me when I'm out and about, or use the Evernote app on my phone to jot down snippets of conversation I overhear or something I see that sparks an idea.
I'm very lucky in that usually, an idea for a storyline appears fully formed – the only way I've ever been able to explain it is to compare it to remembering a scene from a movie that you've seen, except it's brand new.
I once got asked by an interviewer how I decide whether a story is a Dan Taylor story, a Kay Hunter story or a something else, and my answer was "I didn't see [Dan or Kay] in the scene". It's that simple – and sometimes, it's that hard!
From there, it's a case of mulling it over for a little while, thinking "what if?" and getting a feel for how the story might play out. If it feels like it's got legs, I'll grab a new notebook and start jotting down the initial scenes that are in my head.
How do you start writing a book?
If an idea keeps going around in my head and eventually leads to a handful of scenes that simply won't leave me alone, then I know it's time to start a new notebook.
I start a new notebook for every writing project, which helps avoid cross-contamination between novels. For example, I don't want research notes or scenes I've written for a spy novel to get mixed up amongst text for a Kay Hunter novel.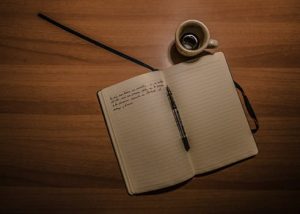 I set aside the first thirty pages of the notebook for research – things I want to learn, stuff I've found out and general information about the facts behind the story. There might be blank pages here to start off with, but I know they'll get filled up over time as I discover holes in my knowledge and the story develops.
Next, I'll use a different coloured pen (blue ink) to start working on the novel proper. I use different coloured pens because sometimes I use up all my research pages (using black ink) by the time I finish a novel, and it's easy to spot the extra information dotted through the notebook at a glance this way.
First, I'll jot down the scenes that are going through my head to get those down and to free up my brain.
I'll also keep a page at the beginning of this section of the notebook for character names – not so much the lead characters if I'm writing in an established series, but for the supporting cast.
This is really useful, because one of my beta readers once told me a couple of years ago that she had difficulty reading one of my manuscripts because all the names sounded the same – they all had the same number of syllables, or sounded similar, and so she couldn't differentiate between characters in a scene.
Setting out the names on a page this way prevents that problem from the start.
I was recently asked at the Bouchercon mystery convention in Toronto whether I'm a "plotter" or a "pantser". A "plotter" is someone who sets out most of the scenes in their book before making a start on the writing, whereas a "pantser" flies by the seat of their pants, making it up as they go along.
Me, I'm a "plotser" – I do a bit of both.
I've studied screenwriting in the past, so I set out the structure of my novel in five Acts, like a screenplay. At the end of each Act, I make sure I've got a reveal, a beat, something to make readers sit up and think "wow – didn't see that coming!". This doesn't have to be a murder every time, but it does need to add to the story and keep you turning the pages.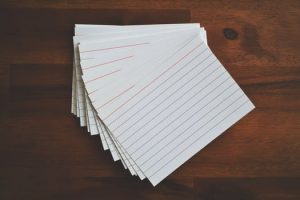 For each of those Acts, I probably have 4-5 scenes in my head. I use index cards for each scene that I either pin to a wall or lay out on the carpet in front of me and I bullet point my initial ideas on each of those so I know what's got to happen. If something doesn't fit, or needs to be moved around in the timeline, then I can simply move the index cards around.
Once I've got a handful of scenes plotted out in this way, it's onto the next step.
How do I write the first draft of a book?
This is where things get messy 🙂
I use a programme called Scrivener to write. In its most basic form, Scrivener sets out all your chapters as folders down the left-hand side of the screen.
I supplement my typing with dictation using Dragon Dictation software – I aim for big daily word counts, and I don't want the health issues that can arise from sitting at a desk all day whilst typing.
I tend to have one Scrivener folder per scene, as each of my chapters are quite short – about 1,000-1,500 words, and this is done on purpose. It serves to keep the pace flowing, and it also means readers can sneak in "one more chapter" before their train reaches the station on the way to work, or before they have to switch the light off at night.
When I begin each scene, I'll review the bullet points of what happens in that scene if I have any to remind myself what I was thinking of, and then I crack on with the actual writing.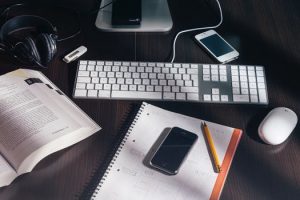 Scrivener has a built-in "corkboard" feature that enables me to move scenes around, and this replaces the original index cards I started out with during the early plotting stages.
By the time I start the first draft, I've probably got about 15-20 chapters where I know what needs to happen, and I let the rest of the story evolve organically.
This allows me to stay true to my production schedule, makes sure that I hit the important plot points, and also enables the characters to have their say in how the story develops along the way.
It may sound weird, but sometimes it's the chance conversations that characters have that can be the major breakthrough in a storyline, so it's best to give them some wiggle room!
These days, I use a combination of touch typing and dictation to get the first draft done.  That's typically 50,000 – 55,000 words, and I stop for nothing.
If I can't think of a character's name, a location name, or there's something I haven't yet had a chance to research, I simply type "XXX" or "[find out about XXX here]" and then I'll go back and fix it during the second draft phase.
This first draft is where the magic of pacing happens for me – if I stuff around writing the first draft, I know it's going to be a slow read. I allow myself all sorts of mistakes and gaps in this first draft, and simply have fun.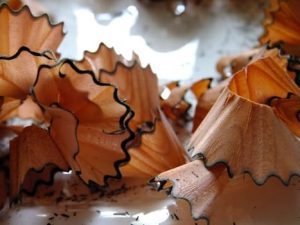 How do I edit a book?
Once the first draft is done, I'll go back and fill out any gaps with regard to research, location and names, and then I'll print it out and start my own edits.
At this point, and probably until the third or fourth iteration, no-one will see this book but me.
As I'm reading this first print-out, I'm looking for pieces of writing that don't make sense to me as a reader, dialogue that doesn't sound natural, and places in the story where the pacing needs sorting out.
Some advice I was given a couple of years ago was to read your writing out loud, and it really does make a difference – I highly recommend it.
I try to make sure I've used all five senses in my scenes – smell and touch are two that we often overlook, but they're powerful ones that can draw a reader into a scene and evoke memories. For instance, I can still recall the scent of the hand cream my grandmother used to keep in the glove compartment of my grandfather's car – it had an aroma of ripened oranges and butter, but for the life of me I can't recall the brand name!
I'm also looking for ways to slow down the pacing – all my books are fast-paced, but I need to give readers some breathing room. It doesn't mean that the book is slow-paced; I simply want to make sure readers get the chance to take in the scenery while they're reading.
I want you to notice the hustle and bustle of a police incident room; I want you to feel the bitter chill of a cold winter's morning.
All of this is captured in the second drafting, and adds layers to the writing.
When I've got to my fourth or fifth draft, I know this book is ready to show my beta readers and find out their reaction.  Once they've come back to me and provided their feedback, it's time for another edit by me before the book is passed onto a professional editor.
Of course, by that time the next idea will already be rattling around in my skull, and I'll be starting the process all over again…!