A question I'm often asked is how do I research a spy novel, especially given I haven't got a background in espionage or the military?
For me, g­etting the balance between fact and entertainment is really important as both a reader and a writer.
There's never one single way to research a spy novel – it all depends on the character, the plot and what the location is, but this melting pot of ideas means there are always opportunities to learn something new.
Here's an overview of how I research my spy novels.
News articles and books
Once I get the nugget of an idea going around in my head, I'll start off by seeking out online news articles about the subject. A lot of the time, this means delving into specialist publications rather than the usual daily news websites, as a lot of the things I write about in my espionage novels aren't covered in this type of media.
The next step is to read – a lot.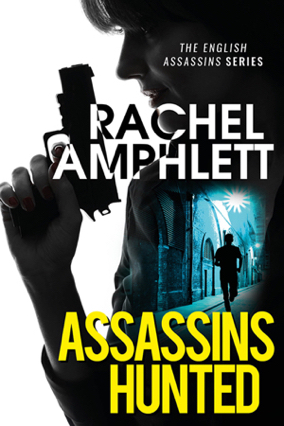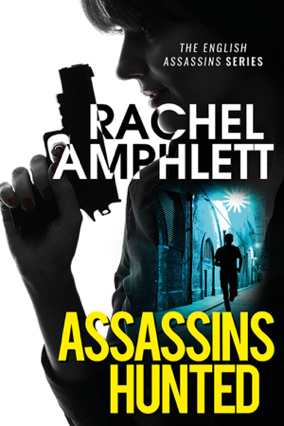 My bookshelves are littered with books that I've devoured in the name of research. Many are first-hand accounts of combat, such as
Chris Ryan's The One That Got Away
Andy McNab's Bravo Two Zero
Chris Hunter's Eight Lives Down.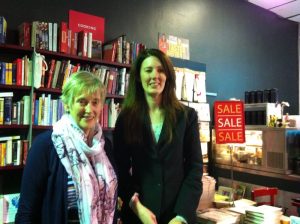 One of my favourite autobiographical accounts is Open Secret by Dame Stella Rimington, ex-MI5 Director and novelist in her own right.
Stella Rimington is a rarity in that she was the first female head of MI5, and she is also one of the warmest, genuine people I have met on my writing journey to date. A few years ago, having just published the first in the Dan Taylor series, I was invited to read an excerpt from White Gold at the Brisbane launch of Ms Rimington's The Geneva Trap. She was gracious, funny, and spent a lot of time that evening chatting with everyone who attended.
Onwards, then, to the books that fill the gaps in between the autobiographies. These are all must-haves for my research, and interesting reads in their own right:
YouTube
YouTube is a great resource for finding simple explanations for complex problems.
Writing Mistake Creek, I had a scene where my lead characters had to escape by motorbike – except they didn't have the keys!
Until I wrote this scene, I had no idea if it was possible to hotwire a motorbike as you would a car, but thanks to a tip-off from a fellow writer and a few minutes surfing around on YouTube, I found several great videos that demonstrated how this could be done and my characters were able to get away.
Real-life experience
Sometimes, there are times when leaving the desk to go off in search of real experiences to add depth to my writing is imperative, and you never know what amazing discoveries are going to be made once you start.
Researching and writing both the Dan Taylor series and the latest English Assassinsseries, I've been able to gain invaluable hands-on experience by simply keeping my eyes and ears open for opportunities to add a little more realism to my writing.
Museums
The first time I did this was when researching Under Fire, the second in the Dan Taylor series.  In the story, a diesel submarine is stolen and used by the bad guys to destroy a gas facility in the Middle East.
I've never been keen on the claustrophobic nature of submarines – I put it down to a visit to Gosport, Hampshire during the school holidays when I was about nine or ten years old and being taken to see the old hulk of HMS Alliance in a dry dock.
I couldn't wait to get out.
The same thing happened on a trip to the Australian Maritime Museum in Darling Harbour, Sydney when my parents were over from the UK on a visit some years ago – as my other half and my Dad gleefully explored HMAS Onslow, I sat on a bench seat and admired the lines of HMAS Vampire next to it, happy not to have to climb within the bowels of the Oberon class vessel.
Nevertheless, I knew when I was writing Under Fire that I couldn't adequately describe what it was like to be inside that submarine unless I tried it myself.
Back to Sydney then.
Climbing down the ladder into the depths of the boat, I was greeted by an enthusiastic volunteer who very kindly showed me around, provided heaps of information, and told me stories of what it had been like for him serving on board HMAS Onslow.
Through his insights, which were greater than anything I could have gleaned from the guidebook, I returned to my desk armed with a real sense of what it was like to be ensconced within the confines of a submarine – and the words flowed so much more easily.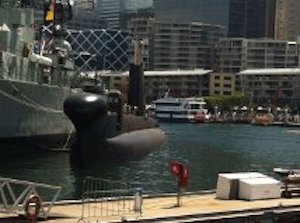 Learning to shoot a gun
Obviously with a character like Dan Taylor, who readers have likened to Jason Bourne and Jack Bauer, it was absolutely necessary I learned what it was like to fire a gun, especially as the idea for the Assassins trilogy was starting to go around in my head.
Growing up in the UK and then moving to Australia, there are gun laws in place that prohibit the ownership and use of guns, and so it wasn't as if I could simply trot off and have a go and shoot a gun out in the bush.
So many of my research insights have arisen from chance conversations, and this was no different. Chatting to a colleague at work at the time, I happened to mention that I needed to get in touch with some local gun clubs to see if they were open to my visiting and "having a go".
Imagine my surprise when my colleague told me that he and his wife were members of a gun club north of Brisbane, and that his wife had been State champion in her class.
Would I like to have a lesson with them sometime?
Of course, I jumped at the chance, which is why I found myself on a rainy Saturday morning learning out to first shoot on an indoor 25m range before being taken outside (once the rain had subsided!) and shooting on a longer range, firing both .22 and 32 pistols.
Not only was I learning how to shoot, I was also taught all the safety precautions involved as well.
Importantly for me, I now knew first-hand what it was like to shoot a weapon, including the smell of discharged ammunition, the effortlessness of pulling a trigger, and that kick a larger handgun has!
Helicopters
I'd been lucky enough to talk to both an ex-Lynx pilot and an engineer who had designed weapons guidance and evade systems when writing Under Fire, but with the opening scene of Three Lives Down demanding so much more, I decided that hands-on research was required.
Fortunately, living on the outskirts of a city like Brisbane, there is a large international airport only forty minutes away, and – more importantly – ample opportunity to learn to fly any contraption that takes your fancy.
After a bit of digging around on Google, I found a company near the airport that offered flight simulator experiences –in a Super Hornet jet or a Black Hawk helicopter.
It wasn't cheap, but boy – was it fun!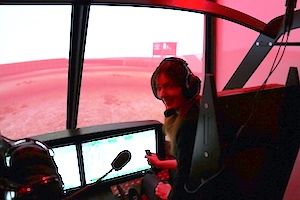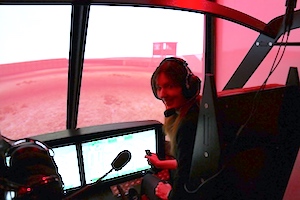 Opting for the helicopter simulator, I spent an hour learning how to fly (badly) as well as having the opportunity to fire the cannon from the "open" door of the aircraft.
The flying side of the simulator is very similar to a computer game, except that the graphics take up the whole of the cockpit window. A mission was set to take out some enemy tanks that had (somehow!) infiltrated Hyde Park in Sydney, and trust me – trying to turn that machine so the gunner could aim at the tanks was a lot harder than I ever could imagined.
As it was, I crashed the helicopter five times on take-off – there are simply so many things to learn!
A virtual reality system built into the gunner's helmet gives you 360 degree vision of the inside of the aircraft, too so if the pilot crashes on landing, you can look over your shoulder and see flames licking at the back of the helicopter.
At the end of the session, I was buzzing – and I really do think that the urgency in the first chapter of Three Lives Down is a direct result of this research.
So, that's how I write spy novels.
All of this education and experience has allowed me to write the sort of books I want to read, whether it's the Dan Taylor Spy Novels or the new English Spy Mysteries.
It's a mixture of reading first-hand accounts, news articles about emerging technology, non-fiction books about the history of espionage, and – more importantly – listening to people who have the knowledge and the skills, and getting some much-needed hands on experience wherever possible.
Spy novelist. Best job in the world.
Find out more about the new English Spy Mysteries here and download the first episode, Assassins Hunted.