Now that the craziness of launch week is behind me, it's time to return to the office (a.k.a. "cave") and continue the actual writing part of my job.
A lot of readers have asked me lately what a typical day entails now that I'm writing full-time, so I thought I'd take you behind the scenes and show you…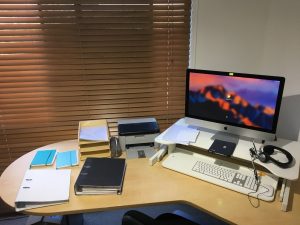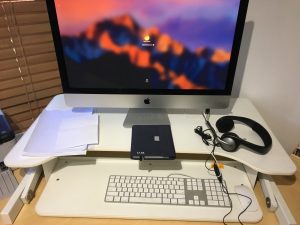 Morning
The alarm goes off at 5:15am in our household (don't ask – it's evil, I know) and I have a quick check on social media before jumping in the shower.
By 6am, I've got my first cup of coffee and I'm in the office ready to take on the minimum word count for the day.
I leave my phone in the kitchen so I'm not tempted to check social media again until I'm finished, and I have a rule that I take no phone calls until after 10am. These next four hours are precious to me, and it's all about getting words down on the page.
I do this because when I first started writing, I wrote on the train during my morning commute. I've heard so many horror stories these past twelve months from writers who went full-time but didn't keep up the habit and so stopped publishing as regularly as they used to, and I didn't want the same thing to happen to me. I have to earn a living from my writing, so that means "bum in seat" every day!
My minimum word count all depends on the anticipated length of the first draft, and what date I want to publish the book by. I use the Scrivener app for writing in, rather than Microsoft Word, and luckily this works out all the numbers for me and displays on the screen each morning what my target is.
You can read more about my actual writing process here.
After I've hit the minimum word count, the pressure's off and once I've topped up the coffee, I either keep going on my "main" project, or pick up one of the other two I'm working on and continue with those.
You can learn more about what I'm working on at the moment here.
I break at about 10:30am – that usually involves a glass of kombucha and cheese on toast. Yeah, I know – rock n' roll, eh?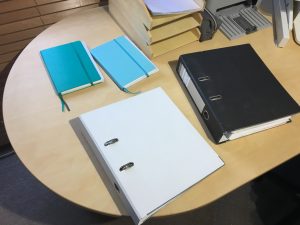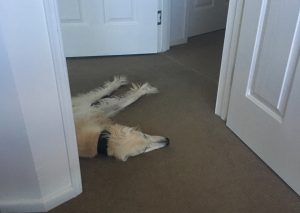 After that, I check any advertising I'm doing such as Facebook adverts to see how they're tracking, reply to any emails, and make sure Floyd is happy and doesn't need to go outside.
Most of the time though, he's curled up snoring outside the office door…
Afternoon
This is where the business side of being a writer gets done – I just find that I'm more creative in the morning (probably because of the number of years I spent commuting and writing first thing), and in the afternoon I'm happy to spend time with my publisher and agent hat on.
I write a quarterly business and marketing plan, and I have this next to me on the desk at all times as I'm constantly reviewing what I need to do. I used to write a yearly one, but things change so fast in the publishing industry that a quarterly one makes more sense.
If I'm teaching workshops at the weekend, this is when I take the time to do any final preparation and rehearsal, as I don't like leaving things until the last minute. And, once a week, I'll do the book-keeping using an online application – it's really easy to manage the day-to-day things this way, but I leave all the "proper" tax stuff to a professional accountant.
It's late afternoon, and I'm starting to tire – by this time, my other half is home and so once he's had a chance to get changed out of his work clothes we sometimes take Floyd for a walk up in the woods (or "the bush") here. It's great to blow the cobwebs away after being cooped up all day.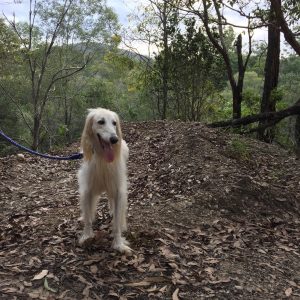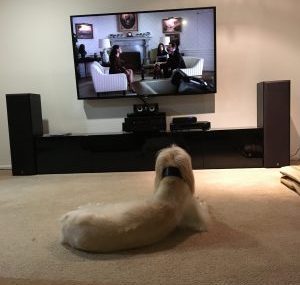 As I said in my recent author Q&A (here), I'm rubbish at cooking and better at eating, so my other half kindly ensures that I eat well and have plenty of energy to tackle the next day in the office.
We relax in the evening catching up on shows on Netflix over a glass of wine (as you can see, Designated Survivor is one of Floyd's current favourites), or if it's a weekend we'll spend time with friends at a dinner party or BBQ.
And, of course, the next day, I do it all again 🙂