I'm very excited and over the moon to share this with you today – the book cover for the next Detective Kay Hunter investigation, Hell to Pay!
Here it is – what do you think?
I'm really happy with the way the story has turned out, and I can't wait to share it with you when it's published on 16 November.  The team, as always, are pushed to their limits, and there are some very nasty characters that are hell bent on ending Kay's career – permanently.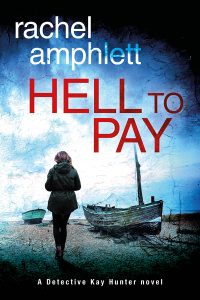 Here's the jacket blurb:
When a road traffic accident on a dark autumn night uncovers a disturbing conspiracy, Detective Sergeant Kay Hunter's investigation exposes a ruthless serial killer exploiting vulnerable young women.
With her enemies unmasked and her career spiralling out of control, Kay's determination to seek vengeance for the victims brings her dangerously close to those who want to silence her. Undeterred, she uncovers the real reason behind a plot to destroy her career and sets in motion a terrifying chain of events.
Could Kay's need for revenge be her undoing, or will she survive to see justice served?
For me, now that the book is ready for publication, it means I can relax for a couple of weeks and turn my attention to my next favourite thing about crime fiction.
Crime fiction festivals!
You see, I'm flying to Canada this weekend for a whistle-stop trip to Toronto to attend the Bouchercon Crime Writing Festival.
I'll be appearing on two panels over the course of the festival, one entitled "Government Agencies", and the other "A World of Thrills".
As with CrimeFest in Bristol last year, it's a brilliant opportunity for me to catch up with a lot of people who have supported my writing journey so far.
I'm very much looking forward to meeting people I've only known on social media to date, as well as catching up with old friends and hopefully making some new ones along the way!
After the festival, I'll be travelling over to Vancouver Island where I'll be co-presenting a seminar on crime thriller writing and indie publishing at Nanaimo's Literary Centre on 21 November with Garry Rodgers. If you're in the area and would like to attend (it's free!), more details can be found here. Do book though, as spaces are limited.
On my return to Australia at the end of October, I'll be getting reading to launch Hell to Pay on 16 November, as well as working on my next writing project this year.